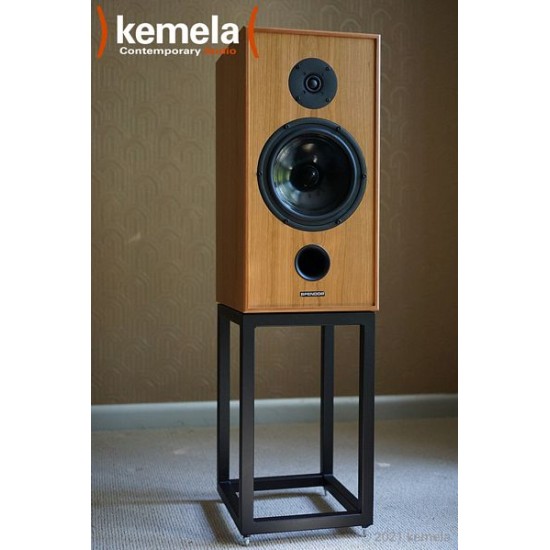 Spendor Classic 2/3 Custom Built Fully Welded Speaker Stand Support
Speaker Stands Spendor Classic 2/3 Fully Welded Open Frame speaker stands Open Frame Custom Built Fully Welded Speaker Stands HiFi Isolation Platform Fully Welded open frame Spendor Speaker Stand Support Spendor Classic 2/3 Custom Built Fully Welded Speaker Stands Mass Loading Speaker Stands Book Shelf Speaker Stands Stand Mount Spendor Speaker Stands Fully welded Hand Finished Speaker Stands custom built All Design Copyright © to Custom Design (Newcastle) 2021

The Spendor Classic 2/3 Custom Built Fully Welded Speaker Stands are a quadrifid design available as standard 425mm high including base isolation spikes and manufactured with ERW mild steel support columns.
The Spendor Classic 2/3 Fully Welded speaker stand design includes zinc plated, adjustable M8 base isolation spikes for a totally rigid, fully welded, light weight speaker stand with maximium joint rigidity. The hand made and finished design has fully welded ERW BS EN 10305-3 steel 25.4 x 25.4mm tubes, as standard for sound quality and as part of the Custom Design attention to detail philosophy.

Custom Design exclusively manufacture the fully welded open frame speaker stand design, world renowned for the standard of finish and quality for total hifi isolation stands. Custom Design are proud to present the open frame Fully Welded speaker stands. The Fully welded Speaker Support Stand Range are manufacture by the craftsman at Custom Design, creating a light weight, totally isolated, rigid speaker stand support with a light weight initial Mass, this has been reduced to provide a minimal, complete speaker stand support with mass loading points included if required ( depends upon your system and type of speaker).
Please remember before Mass loading the speaker stand steel support columns with Inert Filler, we suggested you listen to your music and system first and if the bass frequency requires a little more control then add Inert Filler, which greatly increases the final mass of the speaker stand, which in turn could effect the bass frequency more depending upon the speakers design and manufacturer. Inert Filler 1.7kg per bag and 13.5kg per box.

The open frame contemporary design of the fully welded speaker stands have true minimal aesthetics, especially with the Spendor speaker design, with a more open, dynamic, improved performance and sound quality.

Spendor Classic 2/3 Custom Built Fully Welded Open Frame Speaker Stand Support
Custom Built by hand to your required dimensions and finished height.
Zinc plated, Adjustable M8 base isolation spikes supplied as standard.
Standard height - Custom built on request.
Standard finishes: White or Black
Initial Mass Spendor Classic 2/3 - 12kg per pair
Image: Supplied by Kemela Audio - Spendor Classic 2/3 Custom Built Open Frame Steel Speaker stand 425mm high including base isolation spike.